Efficient Lighting
Switching out old light bulbs for ENERGY STAR® certified LEDs is one of the easiest ways you can start saving energy at home. Compared to incandescent lighting, ENERGY STAR certified LEDs:
Use up to 90 percent less energy.
Last up to 15 times longer.
Save up to $80 in electricity costs over each bulb's lifetime.
LEDs that have earned the ENERGY STAR label offer high quality and performance, and usually last longer than traditional bulbs.
Find the Right Bulb for Your Room
Energy-saving LEDs come in so many different styles, it can sometimes be hard to choose. But don't fret, finding your perfect match is easy when you know what to look for.
STEP 1
Look for Lumens
Unlike traditional bulbs, measured in watts, LEDs are all about the lumens. The higher you go, the brighter the bulb.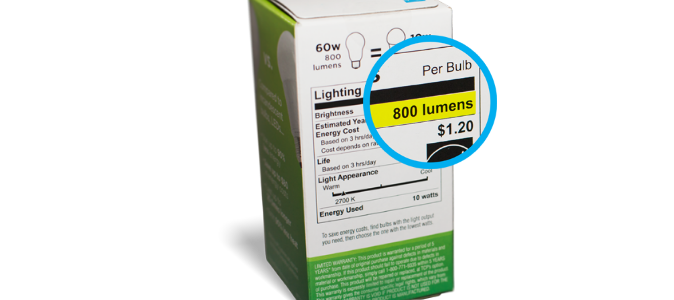 | Incandescent light bulb (watts) | Fluorescent/LED (watts) | Lumens |
| --- | --- | --- |
| 40 W | 10 W | 600 lm |
| 60 W | 15 W | 900 lm |
| 75 W | 18.75 W | 1,125 lm |
| 100 W | 25 W | 1,500 lm |
| 150 W | 37.5 W | 2,250 lm |
| 200 W | 50 W | 3,000 lm |
STEP 2
Know Your Kelvin
Light colors are measured on the Kelvin (K) scale, but often described with temperatures and textures such as warm or soft. Choose what's right for your room.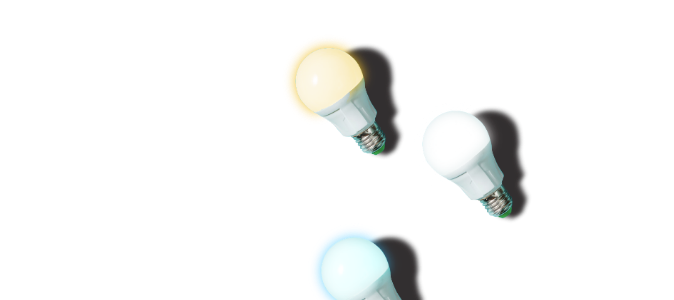 Warm or Soft White
(2,700 K)
Best for bedrooms and living rooms, this standard color provides a cozy feel.
Bright or Cool White
(4,100 K)
Great in kitchens or office space, this color creates a lively, white setting in any room.
Natural or Daylight
(5,000–6,000 K)
Perfect in bathrooms and basements; this range is also great for reading or applying makeup and provides the most color contrast for your nook.
STEP 3
Choose ENERGY STAR